Without the support, advice and crucially, the training from Lisa, we know we wouldn't have the dog that we have today.
Meet Charlie …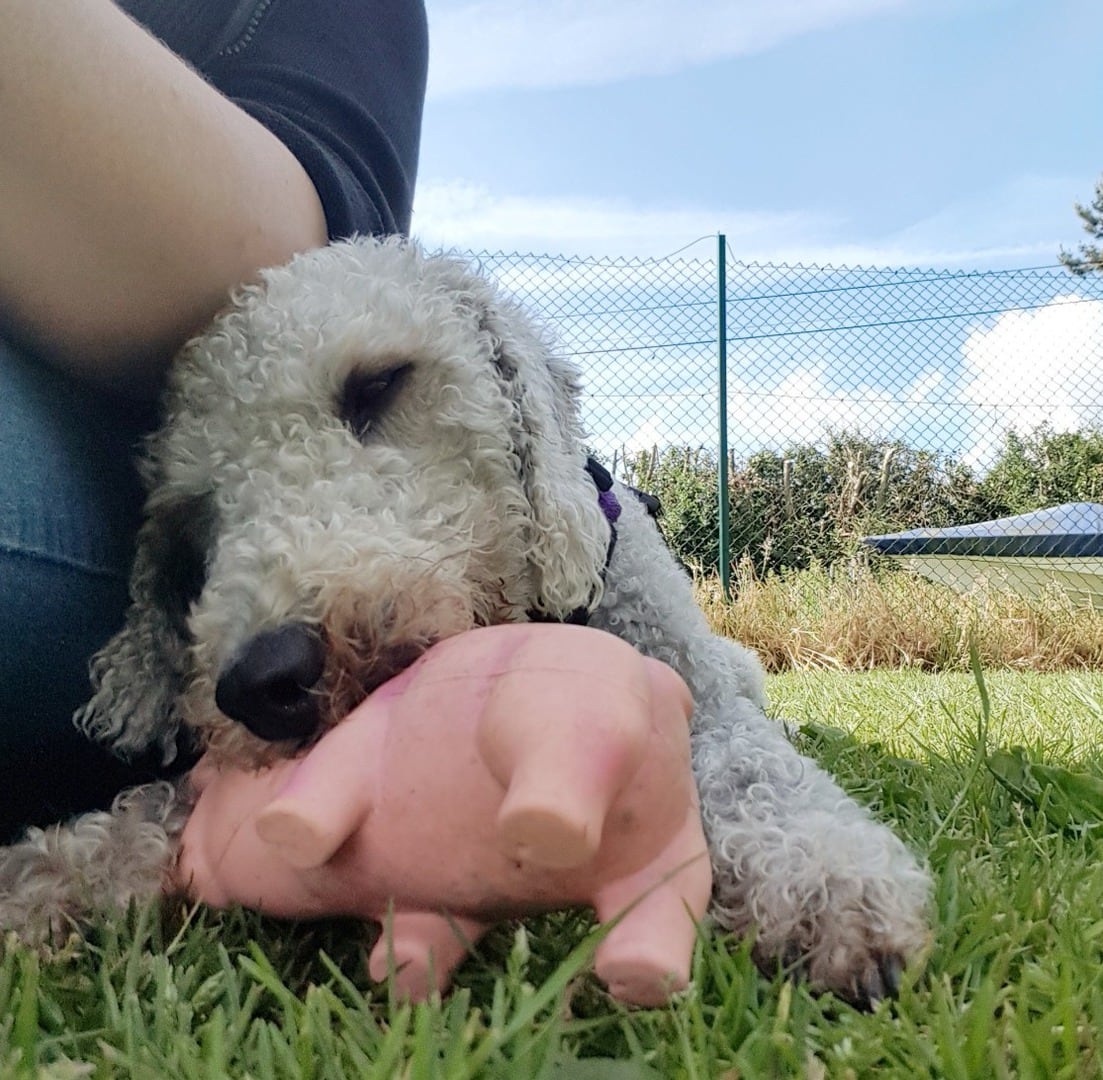 Charlie's story is a wonderful example of how building trust and confidence through learning to read and respond to your dog's behaviour in a kind, positive and supportive way can deliver fabulous results.
​
This gorgeous young Bedlington Terrier was referred to us with a number of severe behaviour difficulties, including biting, that resulted in him not only having to leave his first home but then being returned almost straight away from his second. Luckily for Charlie, the awesome team at the Bedlington Terrier Rescue Foundation stepped in to help, found him a temporary foster home and contacted us to help him transition to his fourth (and final) family and guide them on their journey to help Charlie overcome his worries and find his feet as the loving bundle of Beddie fluff that we knew he had the potential to be.
​
You can read about the approach we used with Charlie and his 'Lovely People' in an article that was featured in the magazine, Dogs Monthly. 
Click here to read Charlie's journey
A year on and we were delighted to receive this wonderful update about Charlie's progress….
It was one year ago that we collected Charlie from his lovely foster people. The time has gone by so fast and we have all come a long way.
The Charlie who lives with us today (currently having an afternoon snooze in his favourite spot) is so different from the one we collected that day. Of course, it is only with hindsight that we can look back and see this but we are so thankful that BTRF and our appointed behaviourist Lisa Webb, could see in Charlie what, at the time, we could not.
​
To us, he was a wary dog who showed us little in the way of happiness and affection. We saw glimpses of his playful nature but it was mainly hidden beneath his mistrusting and apprehensive eyes. He didn't wag his tail or sniff and bark at the things that doggies are meant to. He would back off or flinch if we approached him and tried to stroke his head…and he would never approach us. It wasn't suprising really, how would he know who we were and what we were up to…?
​
We quickly realised that Charlie's happiness completely depended on us. We simply had to be totally committed to following the training and advice given to us by Lisa and we resolved to stick to it..no matter what. It was up to us to learn and understand Charlie, his moods, his body language, his warning signs and the reasons why for all of the above. We had to keep training, keep praising, keep rewarding and encouraging him to trust us and most importantly, do all this….in Charlie's own time, at his own pace. Without the support, advice and crucially, the training from Lisa, we know we wouldn't have the dog that we have today.
​
We're not claiming to have 'cured' Charlie, he will always be the individual dog that he is with his unique personality, his own memories and experiences and probably odd lapses into his prior behaviour traits. However, we have learnt so much in how to 'recognise' him.
​
Every day is different and every day we apply our training techniques, encourage and praise him and make sure we avoid situations that he would find difficult.
​
Because we have stuck to this, the Charlie that BTRF and Lisa could see all those months ago has emerged. We are pleased to give a glowing first anniversary report of our cute, cuddly, snuggly, happy, playful, funny, clever little boy who has learnt to come up to us, nudge us and say "Hey, I want a real good scratch on my head and back for 10 minutes whilst I lean into your legs so you can't go anywhere or do anything until I'm good and ready" a doggy who runs up to us with a waggy tail and says "come on you two, it's time to play with my toys and have a chase around the garden". He just loves to go out on adventures, to sniff and explore and do all the things that happy little Beddies are meant to do.
​
It was so worth us putting in the time and commitment so that we have the Charlie we have now…..He is the Best!