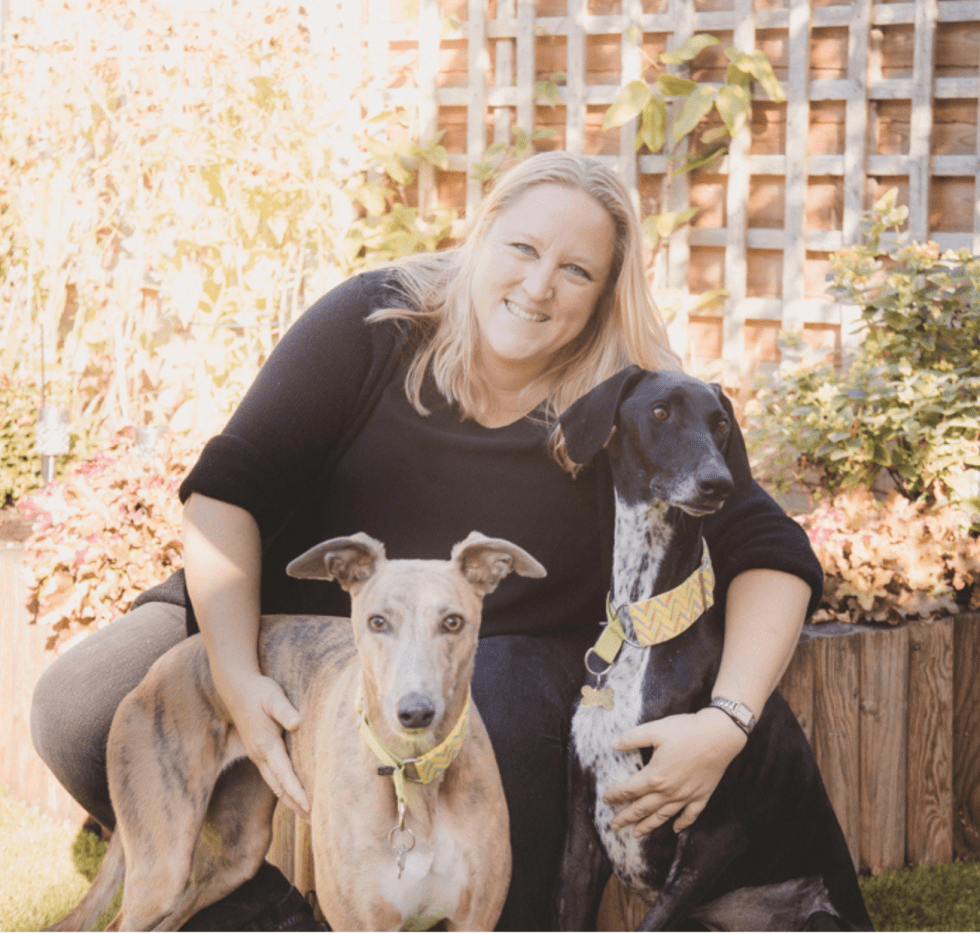 Lisa Webb DipCABT (QCF Level 6)
Chief Pawducator, Canine Wellbeing Coach, Owner of Canine Thinking
I am passionate about helping you and your dog live your happiest life together and this means bringing together the best behavioural science and practical skills with an in depth knowledge of canine communication and also physical and emotional wellbeing. I love seeing how behaviours transform, and relationships between canine companions and their guardians blossom, as mutual understanding and connection develops. It's a big part of why I do what I do! 
It is also a real privilege that so many of these incredible partnerships stay in touch with us over the longer term and become part of our extended Canine Thinking family, helping shape the support we are so proud to provide and making a huge difference to the lives of their own dogs and of so many others in turn. Collectively we can achieve so much. 
I currently share my life with two beautiful rescue hounds, Daylah and Huey, who have both overcome significant medical and behavioural challenges and who not only bring me huge joy (and keep me on my toes!), but continue to educate me about the incredible intricacies of canine behaviour we still have to uncover. The more I learn, the more fascinated I become! You can read their profiles (and the rest of the four-legged Canine Thinking team) here.  Dogs really are AMAZING and I love keeping up to date with the newest canine science research as well as helping develop and implement the advances in behaviour and training techniques which result. Our wonderful canine companions enrich our lives in so many ways, it is a pleasure (and our responsibility as guardians) to help them feel their best and enjoy life with us just as much in return. 
Find out more about Lisa's qualifications, experience and specialist areas here
Kaye Scott APDT
Pawducation Team – Behaviourist and Trainer with specialist expertise in puppies, young dogs & rescue cases
I have been training dogs for over 25 years and in addition to being a full member of, and assessor for, the Association of Pet Dog Trainers, I am now completing my Level 5 Diploma in Applied Animal Behaviour to complement my practical experience (and the huge number of courses and webinars I've done over the years to stay current with all the developments in canine understanding)!
I have worked with Lisa for many years on complex behaviour cases of all shapes and sizes and it all started through my role of Trustee and Behaviour and Training Advisor for Bedlington Terrier Rescue Foundation (BTRF). This gave me so much knowledge and understanding of how important the relationship is between health and behaviour, as Bedlington Terriers are particularly prone to severe dietary and environmental allergies, and I love that I am now part of the Canine Thinking team as well and able to use this experience to enable amazing changes in behaviour and to the well-being of our client dogs (and their guardians too!)
I am also incredibly passionate about supporting puppies and young dogs through their critical early development, and of course continuing to volunteer for BTRF.
I share my life with a Bedlington Terrier called Tweed, a Bedlington Terrier x Whippet called Reuben, an aviary of budgerigars and an aquarium of tropical fish! I also play guitar in the local church music group!
Julie Williams
Pawducation Team – Behaviourist with specialist expertise in Sighthounds and rescue cases
I've worked with Lisa for many years developing practical experience on a huge range of complex behaviour cases during my role as Rehoming Officer at Gloucestershire for Forever Hounds Trust and am now completing my level 5 Advanced Diploma in Applied Animal Behaviour.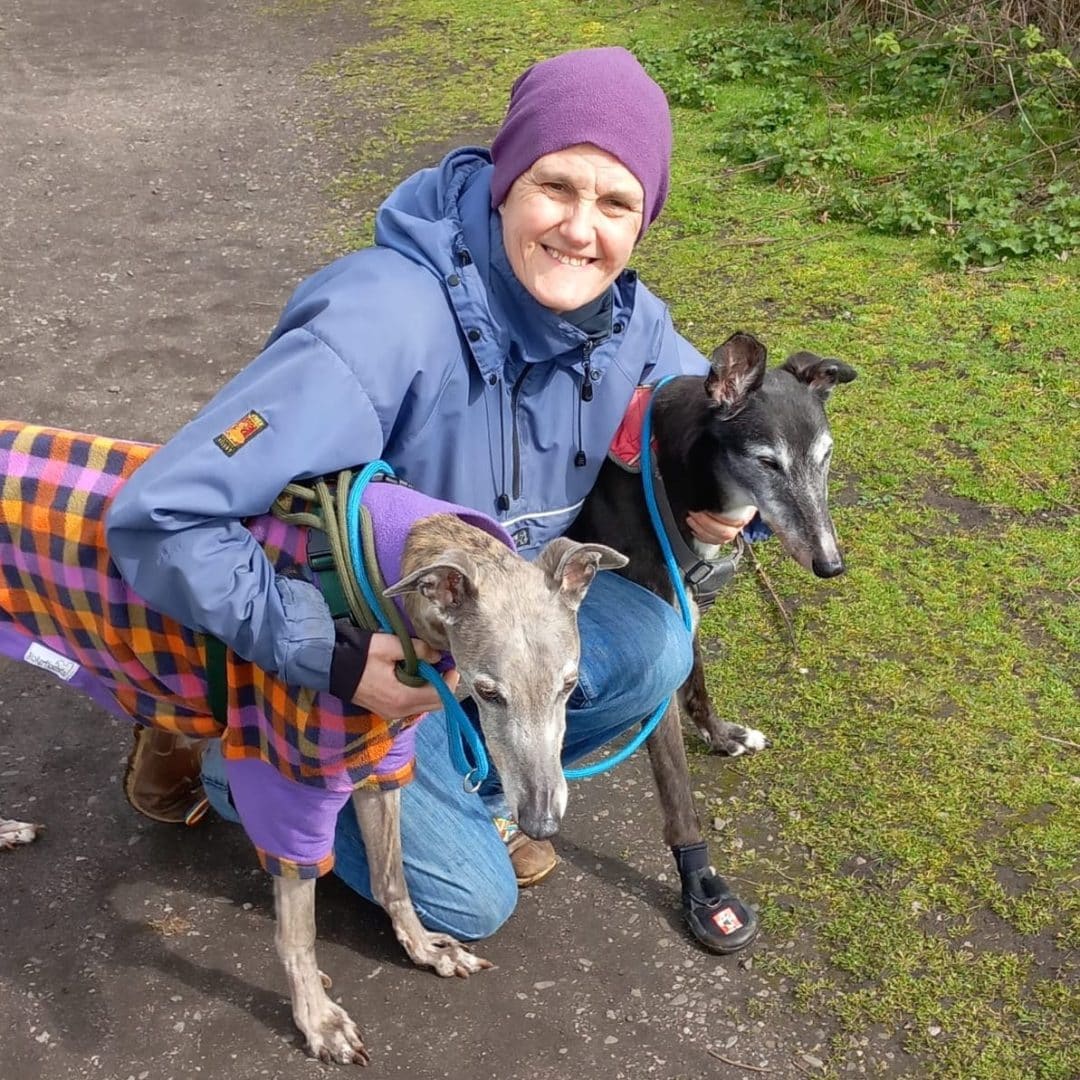 I have recently discovered a passion for nutrition, this has been born out of one of my own dog Bambi's very challenging behavioural issues. Last year we did a deep dive into the relationship between his musculoskeletal issues, his digestive health and his behaviour and the transformation has been incredible. He is now in a much better place, and I love supporting our Canine Thinking clients through this fascinating and complex area of health and wellbeing as part of their behaviour programmes.
Alongside Bambi, I have Sammy, who is also a rescue greyhound. He too has had significant medical and behavioural challenges to face. They have both taught me so much, and although it has not been an easy journey for either of them nor my human family (long suffering husband Tony, and 15 year old son Owen), I feel privileged to have walked that road alongside them. And I love that my journey with them, and the countless other hounds I've worked with and supported, now enables me to help other guardians flourish with their canine companions.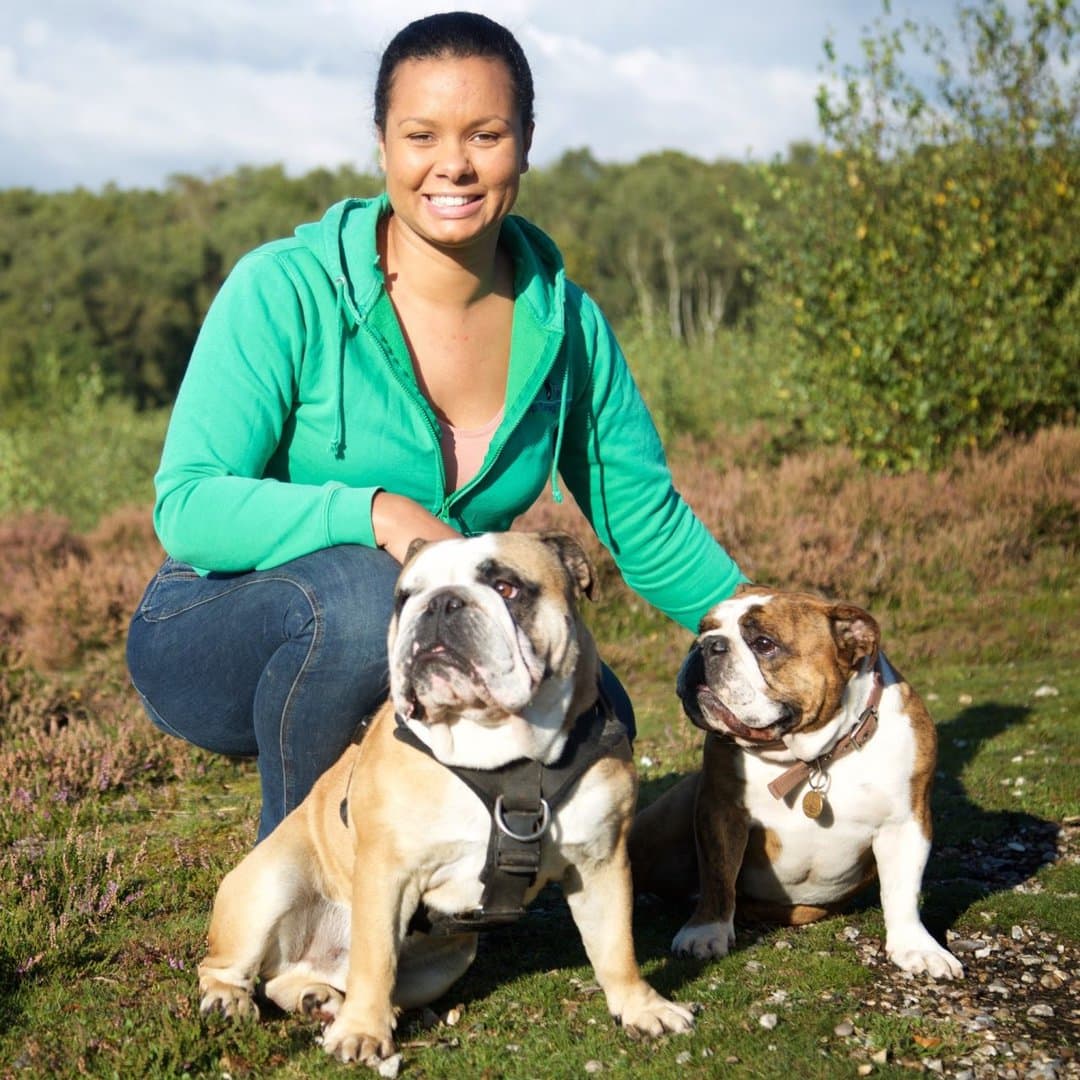 Anna Balch
Pawducation Team – Behaviourist and Trainer with specialist expertise in reactive dogs and assessing the behavioural signs of pain and discomfort.
I have been working with dogs for over 10 years and I am a member of the Association of Pet Dog Trainers, The Pet Professional Guild and am a trainer for Dog AID. I am also a licensed Dynamic Dog Practitioner.
I am continually developing my knowledge and understanding around behaviour, health and well-being through education, attending conferences and workshops. I love to use what I've learnt and apply it to more challenging behaviour cases.
 
I am passionate about the welfare of animals, but I also have a passion for helping people have a rewarding and fun-filled life with their canine companions.
I first started training dogs when my husband and I took on a Boxer rescue called Bubs. She had difficult behaviour issues around other dogs, making everyday life challenging. This sparked my passion for wanting to help other guardians navigate reactive cases. Since then, I have immersed myself in the dog training world and love using my knowledge and experience to help others, putting together the pieces of health and wellbeing to help difficult behaviour cases.
I now share my life with my two Bulldog boys, Bentley (9), who we've had from a puppy and Bosco (7), our rescue boy. I also have a 7 year old daughter, so I have experience raising dogs with a baby/children, having a puppy and taking in rescues.
Karen Webb
Pawducation Enrichment Specialist and Head of Fabulous Things for Dogs
My passion is helping you find the right treats, chews, enrichment activities (and pretty much anything else you need!) for your individual dog so you have a super-content canine companion and don't waste time and money on the wrong things. It's all part of our service because it's SO important to meet each dog's unique needs. I run our 'shop for rescue' pet shop and spend lots of time researching and testing new products….. I love seeing the difference it makes when we get happy videos and pictures!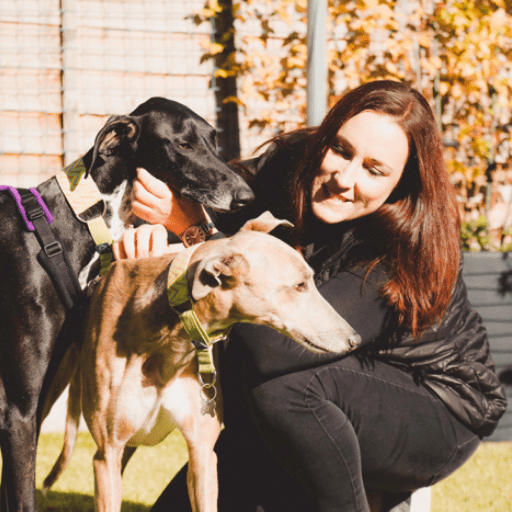 I also support the Pawducation team with enrichment and training 'home-alone' visits for our wonderful client dogs. 
Together with Lisa (who happens to be my sister – so learning all about canine behaviour and wellbeing was unavoidable really!), I share my life with Daylah Doodlebug and Huey Puppy and am lucky enough to get to spend lots of time with the rescue cases we work with (who often seem to come home on foster!)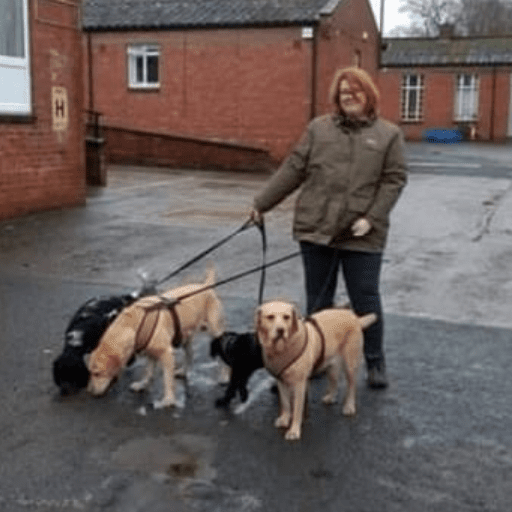 Tilly Coppin BSc
Head of Happiness in the Circle Of Paws(omeness) groups and Pawducation Team Behaviour Assistant
I have a degree in Animal Behaviour & Welfare and am starting my Dynamic Dog Practitioner qualification in May, so jumped at the chance to join the Canine Thinking team and be able to focus full time on supporting dogs and their lovely guardians!
You will see me in all the different support groups we offer. I help lead the way in our fabulous, free, Canine Happiness challenge group, and for those of you who join one of our Circle of Paws membership groups, you'll find me in there too, sharing behaviour and training support and cheerleading you all to success!
My Canine Thinking journey actually started as a client myself when I reached out for support with a hugely complex young spaniel that came to me as a rescue from a highly traumatic background. That personal experience of not only the rehabilitation journey, but also the emotional impact of living with a dog with so many difficulties really helps me relate to and support our clients.
In addition to looking after groups and helping develop client resources, I also work alongside Lisa and the Pawducation team as a Behaviour Assistant, working primarily with our rescue cases and providing enrichment and training 'home-alone' visits for our client dogs.
My little family is made up of me, three dogs and two cats. Amber and Holly are lovely 12 year old sister Labradors, who, whilst now both blind and largely deaf, can snuffle out any treat, no matter how tiny! The final dog in the team is Monty, he's a goofy four year old rescue Schnauzer x Poodle.
Myfi Smith
Pawducation Team Super-Assistant
I have an MSc Psychology Conversion and a Diploma in Canine Psychology and Behaviour with the ISCP. I have a passion for the well-being of both people and dogs, and so jumped at the chance to join the Canine Thinking team to help contribute to building happy lives for guardians and dogs alike!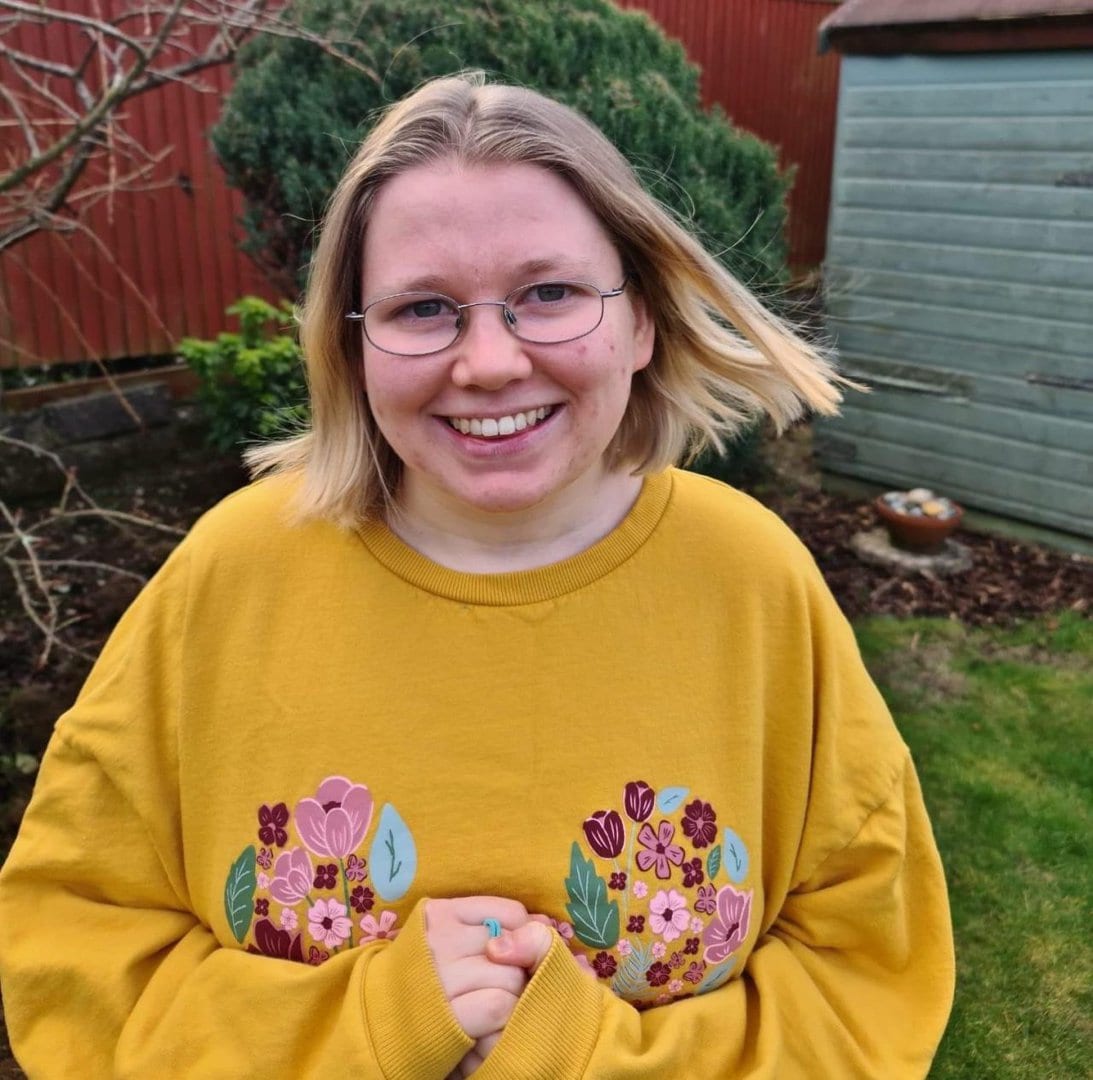 The more I study, the more I want to learn, and share what I've learnt. I'm here to help create educational content and resources that will help you learn what things are like from a dog's point of view, so you can build a beautiful relationship with your canine companion and just get on with enjoying life together.
I help the behaviourists with support to individual clients as needed and if there is any hint of suspicion that pain or discomfort may play a role in your dog's behaviour, I am here to guide you through the process of getting the videos ready for one of our Dynamic Dog assessors to analyse what's going on and work with your vet to help support your dog's overall wellbeing.
When you can't see me, I'll be working in the background to try and make sure everything is running smoothly!