Current rescue case – Jiminy Cricket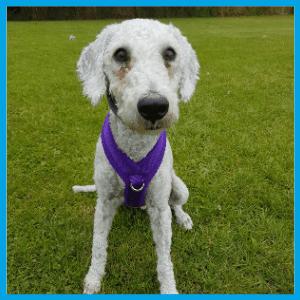 Age:
10 months
Breed:
Bedlington Terrier
Rescue:
Bedlington Terrier Rescue Foundation
Where:
Specialist rehabilitation space
Cricket is……. terrified of other dogs; insecure, anxious and conflicted around people; frightened of being groomed;
Read about the current stage of my rehab journey here
Or click here to see my history and all the stages of my rehabilitation journey so far!
My wishlist
To give Jiminy Cricket something from his wishlist….
​
1. Add the item(s) you would like to donate from the list below to your shopping basket (the stock levels have been set to the number of things he needs, so when he has enough, it will show as out of stock!)
​
2. Add anything else you need for your own dogs to your basket – but not from this list! These same products are shown elsewhere on the site for general purchase, anything added here which says 'donate to cricket' in the name will not be sent to you, it will go straight to Cricket!
​
3. Don't forget to put your rescue or client discount code in at the checkout if you have one
​
4. If ALL the items in your basket are for Cricket (or one of our other dogs in rescue), then in the delivery section please select the 'rescue donations only' option. If there is an item in the basket for your pets as well, then please select your usual delivery option and we will just separate out the items that are for donation and give those direct to the dog in rescue and send your items to you as normal.
and most importantly…… thank you!
​