Activity Toys – the super durable ones
For the power bashers and chewers in your life!
These are our pick of the activity toys which have stood the test of stronger, more powerful dogs. Whilst no toy is completely indestructible (no matter what manufacturers might claim!), these stand up to some pretty robust use!
Toys do need to be sized appropriately and used correctly (for example if a toy is for bashing around to make the biscuits fall out, it shouldn't be left out for chewing).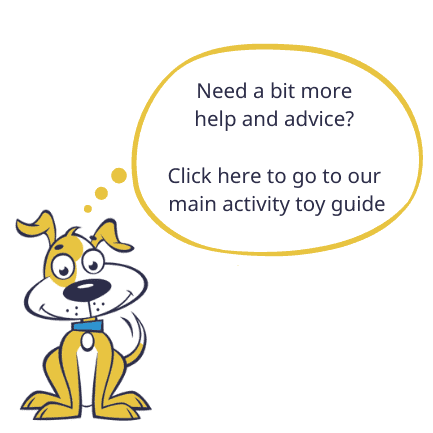 But please remember that although the toys which are 'super durable' are more designed to stand up to chewing and physical exercise (i.e. being bashed around!), they don't necessarily promote the calmer behaviours like licking and foraging in the same way that some of the other toys do.
Sometimes the most important exercises for boisterous, powerful or 'over enthusiastic' dogs are actually the quiet ones which help them reduce arousal and feel more settled, particularly those designed for licking and foraging. These don't stand up to being chewed as it isn't what they are designed for, so just remember to supervise them initially and if needs be add in some extra rewards for interacting with the toys calmly. Click here to find more toys for licking and chewing.
Choose your filters
(you can use any section individually or combine them)
or leave blank to scroll through all the activity toys in this section
choose the type of activity...
choose alone or together...
choose the difficulty....